I thought it was hard to wrap my mind around decorating one nursery. Picking a theme, finding coordinating fabrics, seeing what furniture I can already reuse from around my house, it all seemed a little out of my decorating skill set. Well, it got a heck of a lot harder when I realized we'd be cramming 2 cribs into the space we'd planned for 1, and coordinating for a boy and a girl. You see, there aren't many "girl" items that are actually neutral.
Seriously, go look at baby girl items with polka dots, they all have pink in them. The "boy" ones are definitely the more neutral of the two, with all bright rainbow colors, well, all colors excluding purple. So, imagine my guilt when I came home this afternoon after having some fun registering at Target and Babies'R'Us to find that all of the bright colorful nursery things I registered for were labeled, "boy." Totally unfair. I promise I'm not trying to prevent Lindsey from being girly, I have just never loved pink or purple myself and thinking of finding a way to incorporate those colors into a room she'll be sharing with her brother, just didn't work out. So, for my non-Pintresty friends, I'm sharing my very basic nursery plans here on the blog. (It's also for the non-Pintresty me, who only figured out how to pin things after my oldest sister told me I needed to learn last week.)
To start, let me explain that I do plan to have Owen and Lindsey share a crib when they are tiny, but I do want to get 2 matching cribs so that when they are ready to sleep alone, or if they hate cuddling one another from the start, we can split them up. It also has to do with the fact that big box stores offer a twin discount where you get an extra 10% off when you purchase 2 of the same large item for twins.
This is the way I'd like to orient the cribs under the window in the nursery.
This is the crib that I am in love with... but I could go for the IKEA equivalent.
So, that's hopefully what the cribs will look like, white and modern and very streamlined. They convert to toddler beds too so I'm thinking we'll get a few years use out of them before switching to bunk beds.
Now, onto the fabric, and finding something that can work for a boy and a girl. Let's rewind to Christmas of 2011, when I found an adorable Alexander Henry print that I could not leave at Joann's. I convinced Jon at the time that I would make my own bedding set, if he'd get me a few yards of the fabric. Being the loving husband that he is, he bought me 11 yards, definitely enough for two quilts, two crib skits, and a valance to go over the window coverings. Want to know something awesome about the fabric? It's Noah's Ark themed, two by two! It's totally perfect!
See, bright animals in pairs! It's called "It's Gonna Rain"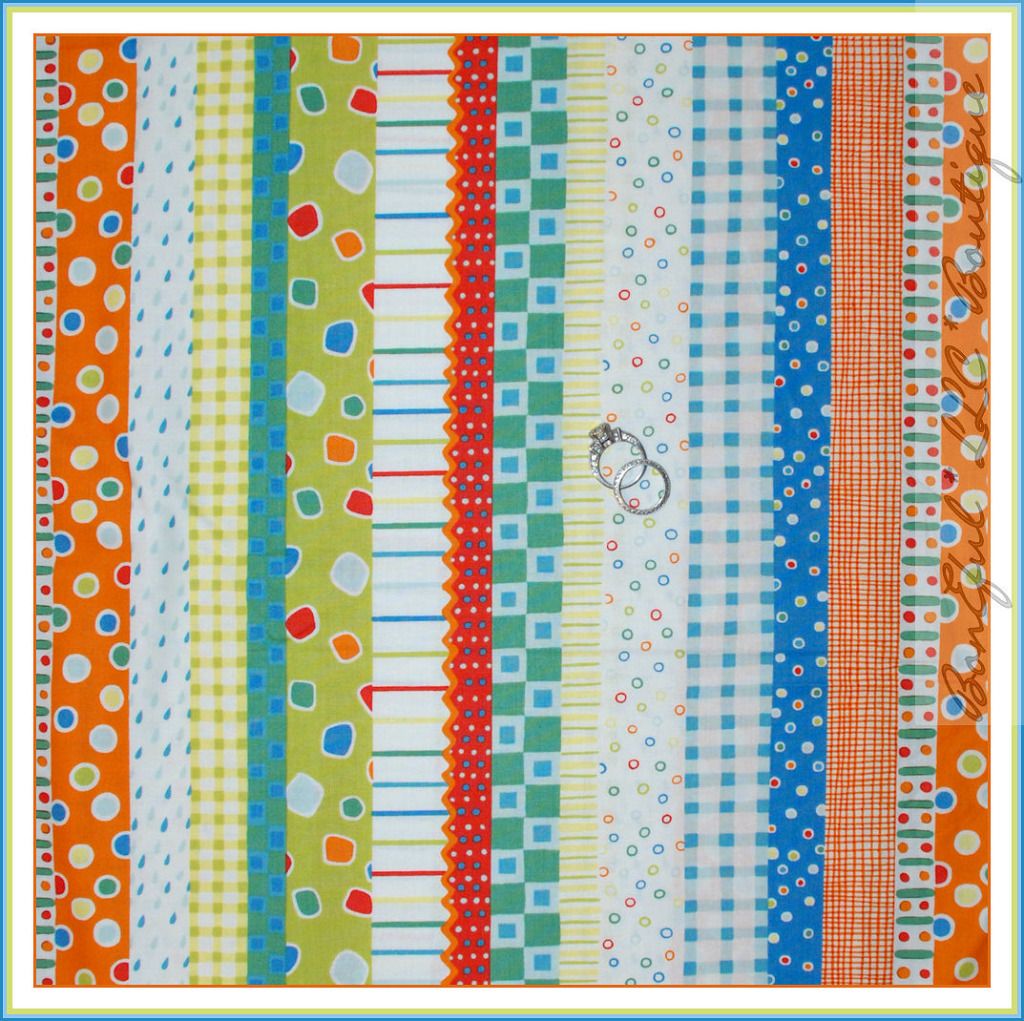 Ahh! And while searching for an image to share of the fabric I have, I found the coordinating stripe! I am doomed! Really, I can use any bright dots, stripes, and solids to go along with the other as long as it excludes pink and purple. Sorry Lindsey.
Hm, so I've covered fabrics/ colors, cribs... what else? Changing table and chair are the other two BIG things in the room.
Rather than getting furniture with drawers, I love the idea of these shelves that could be used for cloth bins on top and toys/books on bottom. I'd put it horizontal and set the changing pad on top.
As for a chair, I think I am in love with this staple from Target. The gray is perfect for draping a bright blanket over and it looks somewhat similar to my favorite chair at my parents' house that they used for rocking me and all of my sisters.
So, that's all I've got planned so far really. We bought paint for the nursery and our room earlier this week. They are from the same gray family, the nursery will just be one shade lighter than our room. We like gray because it is such a neutral backdrop for dressing things up with bright pops of color.
Speaking of bright pops of color, isn't this crib bumper adorable? And it's breathable, so I won't worry that they are squishing their faces against it.
Well, that's all I've got really. If you have any cute ideas, send them my way. Just remember, no pink or purple... Oh, and since I didn't want to post a bump shot on Facebook, if you're reading the blog, here's a shot from this morning of my 18 week bump.
Sorry for the awkwardness of the photo, I haven't mastered self shots of the bump yet and when Jon tries to take them I usually look really grouchy... I should work on that.